Shopping for cake boards can be a little annoying. They come in the standard inch sizes and when working with them, the cake is almost right up to the board and does not provide you room for a nice even coat of frosting. (Ever wonder why when you cut your cake you tend to have more icing on one side than the other?)
Well, I have the solution for you. A special little tool that cuts up to 16″ inches and you can size your cake board however you want.
So what tool is it that makes life so much easier?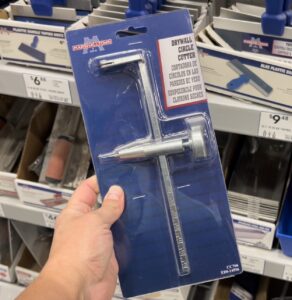 That's right. The one that contractors use to cut up dry wall. This handy tool works just like a pencil compass does, except instead of tracing a circle, it cuts a layer into the cardboard that helps guide your cut. The best part is, is that you can select how wide you would like the cake board to be.
I personally prefer to do 1/4″ bigger on the sides of the cake, than the cake diameter itself. This helps give me a little bit of room to add just the right amount of frosting to my cakes. This extra space also help me get perfect edges when frosting and adding fondant to my cakes.
To make your own custom cake boards, all you need is a large cardboard. the drywall circle cutter, and a pair of scissors.
I use a 16″ white coated corrugated cardboard. The coating is 100% food safe and also prevents the cake from picking up a cardboard taste on the bottom.